The Back Country Horsemen of Oregon currently includes 9 local chapters, with over 400 members, throughout Oregon and is one of 33 recognized State Organizations of Back Country Horsemen of America. We promote and teach Leave No Trace ethics (LNT) and lobby for continued access of pack and saddle stock in Oregon's wilderness and backcountry. We are made up of many individuals from all over the state who share a common love of horses and riding in the backcountry and on our public lands, who want to see the places in Oregon remain a place where equestrians are welcome.
Back Country Horsemen of Oregon is a group of local men and women dedicated to the preservation of our right to the common sense use and enjoyment of pack and saddle stock in Oregon's wilderness and backcountry, We are a nonprofit organization focused exclusively on ensuring public lands throughout Oregon remain accessible to equestrians. Through our principals we advocate for private recreational pack and saddle stock use of all public lands and the stewardship of those lands. The Back Country Horsemen of America is the only national organization that promotes the use of private recreational pack and saddle stock use on our public lands in which we are a part of.[wp-svg-icons custom_icon="bch-cowboy" wrap="i"]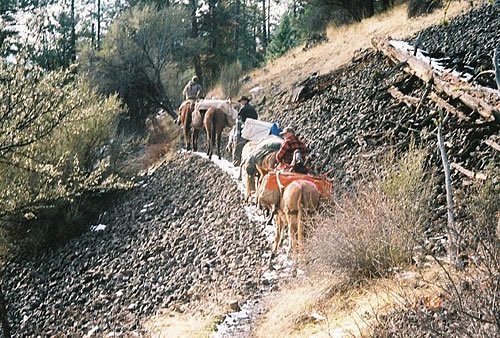 We actively work with all city, state and federal government agencies to maintain equestrian access to public lands. Back Country Horsemen accomplishes this by attending and speaking at public meetings, writing letters, and working with our government agencies to maintain many wilderness and non-wilderness trails in the state of Oregon. Our local chapters work, with the blessing and support of the public agencies, all over the state. We provide training in LNT principals and techniques to minimize our equestrian impact on the backcountry. Each year Back Country Horsemen of Oregon does volunteer work in the state of Oregon valued at $500,000.00.
Through our work we foster opportunities for every equestrian, we build credible relationships with local, regional and national federal state and city forest partners and provide lasting bonds with family, friends and our public lands.
Our Mission and Principals Adopted by all Back Country Horsemen are:
To perpetuate the common sense use and enjoyment of horses in America 's backcountry and wilderness.
To work to insure that public lands remain open to recreational stock use.
To assist the various government and private agencies in their maintenance and management of said resources.
To educate, encourage and solicit active participation in the wise use of the backcountry resource by horsemen and the general public commensurate with our heritage.
To foster and encourage the formation of new BCHO chapter organizations.
It was the original assumption that Back Country Horsemen would be a different type of organization, not the usual special interest one, normally operating as a protest group. It was felt that a service club, doing work in the backcountry, would lend credibility to the group when it became involved in criticisms of agency management.
It was also recognized that some of the complaints against backcountry horse use were justified. Therefore, it was determined that an educational program should be a fundamental principal of the group.
So, Service and education joined a determination to protect our heritage of backcountry stock use as composites of the "Purpose" printed above. Our name was chosen because it signified an interest in perpetuating recreational stock use on virtually all public lands.