Back Country Horsemen of Oregon History
The first efforts to create a Back Country Horsemen state organization in Oregon were made by Flathead BCH members Roland Cheek and Jack Watts, in 1977, in Enterprise . However, nothing permanent occurred until 1989 when Idaho 's Don McPherson was successful in helping to organize the High Desert Trail Riders chapter in Klamath Falls and again in 1991 when he helped start the Blue Mountain chapter in La Grande. Then, in 1994 the Tiller BCH was formed in Tiller, Oregon .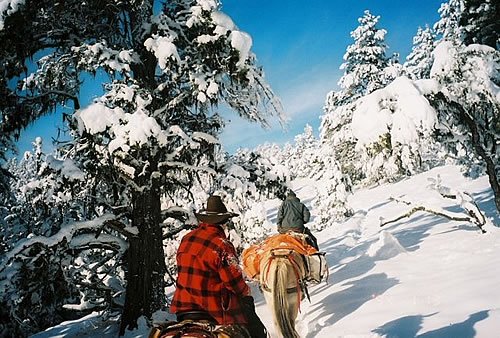 On May 4, 1996, the High Desert Trail Riders were successful in pulling together 9 horsemen from the Oregon Coast Horse Association, High Desert Trail Riders BCH, Blue Mountain BCH and 10 interested folks from the Hood River area. With an assist from Randy Darling, BCHA president and BCH of Washington's Al Pitts, Back Country Horsemen of Oregon had its first organizational meeting in Hood River . Howard Bailey of La Grande, Fred Jette of Hood River, Dan Applebaker of Klamath Falls, and Becky Clark of Florence agreed to serve as interim officers to get the organization off the ground. By the time of the second meeting, in Bend on November 23rd, 1996, Oregon had added the Coos BCH and Columbia Gorge BCH. The Tiller group and the Oregon Coast Horse Association chose not to pursue membership. A donation of $1,000 from the HDTRBCH kept the BCHO afloat that first year.
In May of 1996 a group of affiliate members of Back Country Horsemen of America (BCHA) and other interested horsemen met in Hood River , Oregon with the purpose of forming an Oregon State Organization of Back Country Horsemen. Application was made to BCHA and in April 1997 Back Country Horsemen of Oregon (BCHO), with four member chapters. The BCHO was accepted into the BCHA at the National Board Meeting held in Plain, Washington , on April 25, 1997. Since then, we now total 10 BCHO chapter: Columbia Gorge, Coos, East Cascades, Emerald Empire, High Desert Trail Riders, North Umpqua , Sourdough, Steens, West Cascade, and most recently Territorial Riders. BCHO State membership has grown from 129 memberships in 1997 to 350 family/single memberships in 2012. Since that date Back Country Horsemen of Oregon has grown to ten chapters and overall the Back Country Horsemen of America has grown to more than 16,000 members nation wide.
That first year, the fledgling Back Country Horsemen of Oregon organization racked up 3,620 man-hours, 168 days of stock use and 11,296 miles of stock hauling on volunteer projects on public land. Keeping the backcountry trails open for stock users, improving trailheads and stock-oriented campgrounds continues to be the emphasis in addition to education of recreational stock users through LNT training sessions and the annual three-day packing clinic sponsored by the HDTRBCH in Klamath Falls. Evidence of this is the fact that volunteer time has grown to 9,080 man-hours with 56,472 miles driven and 828 stock-days donated in 2011.
The continued commitment of the Back Country Horsemen of Oregon to its parent organization is shown by the Coos chapter sponsoring the 2003 BCHA National Board Meeting in Coos Bay , Oregon .
Back Country Horsemen of America History
The formation of Back Country Horsemen of America took place in Montana 's Flathead Valley in January of 1973. Since then BCH progress is a matter of record. BCH members have used their specialized knowledge of stock and the backcountry to bring about changes and modifications of restrictive management. BCH has participated in many agency meetings on land use planning and regulations and has become a strong voice for continued, responsible, horse use. This responsible approach has assured a valid consideration regarding regulations and planning and has given BCH the support of other conservation groups.
Growth of the Back Country Horsemen organization continued with formation of additional clubs in Montana . In 1979 these clubs and one from Salmon, Idaho formed the Back Country Horsemen of America. Three more Montana clubs and one from Idaho were added in the next few years.
The Back Country Horsemen of Washington was incorporated in 1977 and developed an informal liaison with the Montana and Idaho Back Country Horsemen. In 1981 a California organization, the High Sierra Stock Users, was formed. After several years of discussion the four groups decided to merge, using the Back Country Horsemen of America name. A constitution was drafted in 1985 and adopted in 1986. It provided that the governing body of this new organization would be a board of directors elected from each state. Montana , Idaho , California and Washington Back Country Horsemen units became the BCHA. Since that time there has been a steady growth within the four founding states organizations. By 1996 there were additional state organizations in Arizona , Nevada , New Mexico , North Carolina , Utah and Wyoming Additionally there were affiliate chapters in Colorado , Oregon , British Columbia and Alberta , Canada .